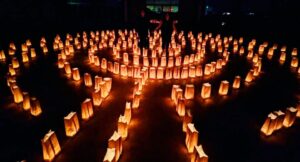 This magical event has been such a success over the past few years! Take some time out of the busy holiday season to nourish your spirit.
Join us on the darkest night of the year to walk the candle labyrinth and welcome back the sun.
The labyrinth has long been used for meditation, prayer and sites of ritual in various cultures around the world. Created with almost 500 candles, the winter solstice labyrinth invites you to warm yourself in a self-guided ceremony intended to help release old attachments and envision new possibilities as the darkest night of the year births a new season.
The labyrinth will be created in the big event hall at Sprucewood Shores Estate Winery. The space will be lit by candles and we will have the ethereal sounds of crystal bowls and Gregorian chanting. All are welcome.
We will light it up Thursday December 21st at 6:00-8:30pm.  Outdoor Fire Dancer Performance by Velvet Edge
https://velvetedge.ca/
at 8:30pm
All are welcome to this free event. Please remember the labyrinth is a quiet, contemplative, meditative space. Walking the labyrinth takes anywhere from 10 – 30 minutes. Feel free to walk it as many times as you like! No reservations are necessary.
Entry to the Labyrinth is by cash donation that will be given to Welcome Shelter for Women.
https://ww2.welcomecentreshelter.com/
The winery will be open to enjoy hot apple cider, Hot chocolate, mulled wine, wine, food and seasonal treats. The winery retail store will be open. There will be a fire outside to enjoy as well.