The Sprucewood Shores Story
For 30 years we have been committed to growing world class premium VQA grapes along the shores of Lake Erie in the bountiful EPIC wine region, 30 minutes south of Windsor/Detroit. Today, the Winery is owned and operated by the Mitchell's Steve, Tanya and Jake and their friendly staff. The family run vision and dedication to their products and staff shines through in the wine and quality experiences you can enjoy when visiting the Winery.
We envision our Winery to be a family place for every person to find a wine they enjoy, to explore and to relax in a setting parallel to none. We are Canada's only beach accessible Winery right on the sandy shores of Lake Erie, boasting a beautiful building surrounded by gardens and rolling vines. Enjoy our picnic baskets or charcuterie board while you are here, and soak in the beauty that our surroundings, family and wine provides.
We have grown through the years, but not too fast! Tanya still creates those lovely small batch wines our customers have known to love, and has expanded our line up of wines. You can also find Sprucewood Shores large selection of wines in restaurants and LCBO stores across the province. Become a part of our wine family and join us in our journey!
1991
Committed to growing world class premium VQA grapes since 1991.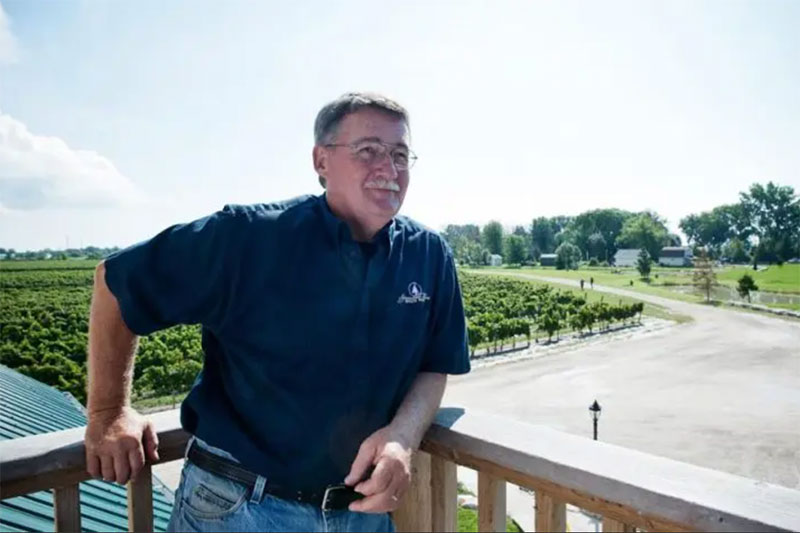 It started with a dream
Gord Mitchell grew up on a farm, and during his career in automotive he always kept his dreams of returning to the field. He envisioned a future for his family and with the support and vision of his wife Hannah and their children, they brought his dreams to reality. It began in 1991 with the planting of our vineyard along the shores of Lake Erie. The grapes were sold to neighboring wineries for years, until in 2004, winemaker Tanya created Sprucewood Shores Estate Winery' s first vintage release. Gord's philosophy was to "leave your striping at the door" – to create an environment where all were welcome, and everyone could find a wine they would enjoy.
Gord Mitchell designed and constructed the main retail building you see here, as well as planted the vineyard.
Hannah Mitchell, with her background in computer system design setup the backend management and bookkeeping. Her artwork still adorns the walls of the winery today.
In 2011 & 2012 Gord and Hannah Mitchell passed away. Their children have carried on and grown the business, with the memory and inspiration of their parents guiding them.